See on Scoop.it – Your Catholic Yenta Know-it-all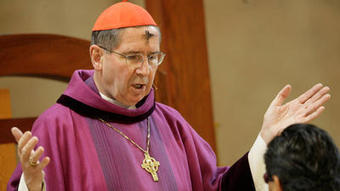 ROME — A senior Vatican official called Cardinal Roger Mahony 's participation in the selection of the next pope "troubling," but said there was no formal procedure to stop the retired Los Angeles archbishop from attending the conclave next…
Kristen McGuire's insight:
Well, do you think this reporter has a slant on this prior to beginning to seek out sources?
Not saying I do or do not think Mahony should attend the conclave…but really? One thing – ONE THING only I think is most important for Cardinal Mahony at this time – to be consistently and truly contrite, everytime he communicates, for the rest of his life. Live the message that you are truly sorry for your sins, dear Cardinal – and NO ONE will care where you take your penitent heart.
See on www.latimes.com